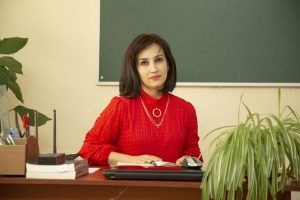 Salimova Malika
Adress: 100109, Tashkent City. Farobi Str.-2,
Phone.: +998 71 150-78-13,
Education:
2009-2012 yy. — the student of the Tashkent Medical Academy
2012-2014 yy.— Postgraduate studies at the school of Public Health
Employment:
2005-2010 yy. — Republican Specialized Center of Urology, Nurse
2014-2016 yy. — Senior teacher of the college of P.F.Borovskiy
2016 y. —  n.  — assistant of Department of "Public Health, Organization and Management of Healthcare" of the Tashkent Medical Academy
Scientific activities:
2014y.-defended his thesis on-«Организация работы и совершенствование деятельности медицинских сестёр работающих в Республиканских специализированых научых центра»
Main directions of scientific activities:
Organizations in nursing
The main scientific works over the last 5 years:
Articles and abstracts:
1)Психотерапевтическая роль медсестры, мақола, Узбек санъати ва маданияти таълимининг долзарб муаммолари. Республика илмий-методик мақолалар тўплами 2016й.164-167б
2)Менингит билан оғриган беморларни парвариш қилишнинг асосий қоидалари, мақола, Узбек санъати ва маданияти таълимининг долзарб муаммолари. Республика илмий-методик мақолалар тўплами 2016й. 182-184б.
3)Неврологик беморларни парвариш қилишнинг асосий принцплари, неврологик бўлимда хамшира вазифалари, мақола, Билим олиш ва касб хунар эгаллаш маънавий юксаклик белгиси 2016й. 136-139б.
4) Жамоада хамширалик иши фанида очиқ дарснинг қўлланилиши, мақола, ХI ўқув услубий анжуман материалларининг тўплами
5)Уровень заболеваемости анемией в Республике Узбекистан и стратегия борьби с железодефицитной анемией, мақола, Молодой учёный международный научный журнал 2017й. 265-267 б.